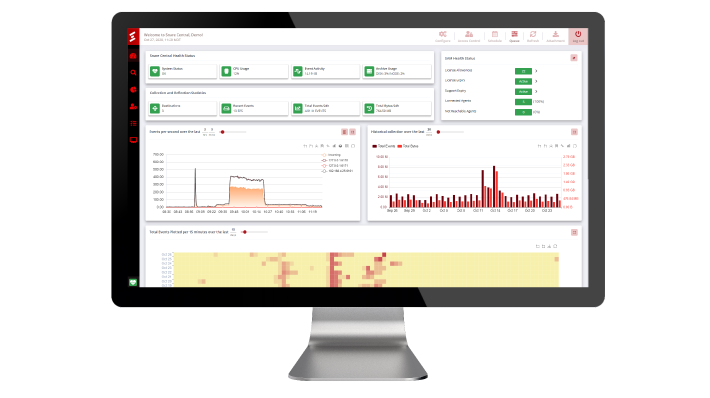 The latest version of Snare Central, an industry-leading cyber security enterprise log collection and management solution, is headlined by advanced event search capabilities
Adelaide – November 10, 2020 – Snare Solutions, a global cyber security software provider and subsidiary of Prophecy International (ASX:PRO), today announced the release of Snare Central 8.3, the latest version of the company's centralized log collection and management solution. Now available worldwide, Snare Central 8.3 features powerful new ad hoc event search capabilities, as well as an upgraded interface for better UX and data visualization. The latest release promises to keep with Snare's mantra of reducing customer risk while saving customers time and money.
"With the new robust event search capability, users will now have a way to do point & click searches and effective troubleshooting by focusing on specific systems, time range, and log types to investigate event logs and diagnose exactly what happened, when and on what systems." says Paul Herbka, Vice President of Product Management for Prophecy International. "This allows operational and security teams a simple yet effective tool to rapidly resolve network and security issues."
Snare Central 8.3's upgraded search capabilities will allow users to leverage advanced search to write custom queries for their event logs. To save time and simplify the process for the end-user, a basic search function features drop-down options to search event logs in just a few clicks. Drop-down fields allow you to search logging events via time range, systems, log types, or simply do a text-based search generically or within specific fields.
In addition to Basic Search, Snare Central 8.3's Advanced Search feature will give users the ability to write their own search queries (even using regex) and tailor event searches to match their company's unique needs and use cases. Advanced Search will also give users the option to save queries, which will save time when performing event searches in the future.
Along with updated event search capabilities, Snare Central 8.3 includes visual indicators on reports denoting the criticality of the report with red, yellow, orange, or green. We also help with the age-old issue of synching time between systems and servers with a server and local time displayed in the header. We include enhanced file integrity check administration to further the value of our File Integrity Monitoring (FIM).
Snare Central 8.3 is the second major release for Snare Central in 2020.
Find more information on Snare Central 8.3, here.
Immediate requests for demos or implementations can made by emailing snaresales@prophecyinternational.com.
###
About Prophecy International Holdings Limited
Prophecy International (ASX:PRO) – a Stock Exchange-listed company – is known internationally for innovative software. Prophecy International designs & develop software and brings those solutions to the world through our global business partner channel in each of our territories – in America, Europe, Middle East, Africa, and Asia/Pacific. prophecyinternational.com
About Snare Solutions
Snare Solutions (a Prophecy International, LLC brand, ASX:PRO) is a centralized log management solution that pairs well with any SIEM and/or MSSP platform. Snare helps companies around the world improve their log collection, management and analysis with dependable tools that save time, save money & reduce risk. Learn more at snaresolutions.com.
https://www.snaresolutions.com/wp-content/uploads/Snare_Central_8.3_Email_MainDash.png
398
710
Paige Montgomery
https://www.snaresolutions.com/wp-content/uploads/2020/02/Snare_Logo_med-1.png
Paige Montgomery
2020-11-10 08:30:14
2020-11-11 22:20:34
Snare Solutions Releases Snare Central 8.3